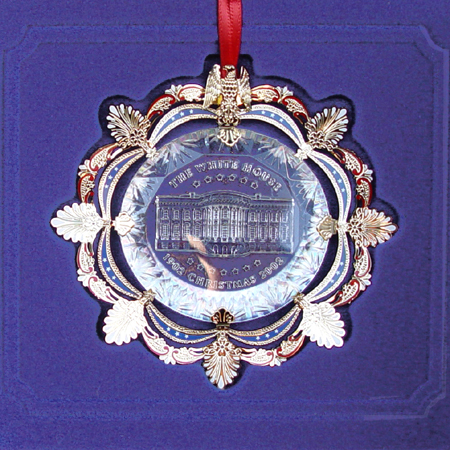 2002 The Roosevelt Restoration of 1902 Ornament

The Roosevelt 1902 Ornament The crystal-like, acrylic core of the 2002 ornament recalls the sparkling Bohemian glass of the elegant East Room chandeliers. The brass metal decorative frame includes a holiday ribbon, acanthus leaves from the East Room's Louis XVI style wall panels, and a sturdy eagle inspired by the carved mahogany pedestals of the console tables made for the State Dining Room by the firm of A.H. Davenport. The box cover reproduces a portion of the decorative plaster of the 1902 East Room ceiling design.
Unit Price: $25.00 USD

All ornaments are insured and delivered to your home by the United Parcel Service. UPS is committed to doing "absolutely, positively" whatever it takes to deliver the ornaments to you.