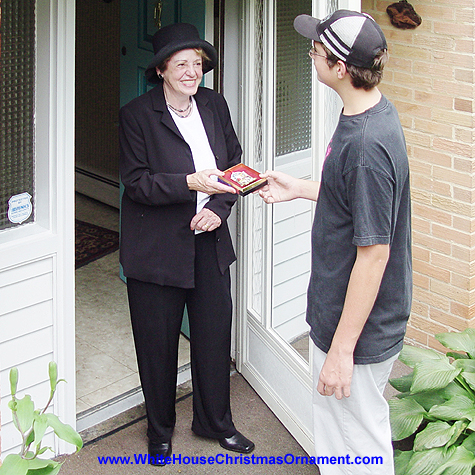 Christmas Fundraising Program
A Unique Fund Raising Idea - Call 301.493-9273 Today
Is your organization or school reaping the maximum benefits from its fundraising efforts? Instead of asking someone outright to put their hands in their pockets and give you a donation, why not give them something back in return. Fund raising events are a great way of raising significant amounts of money in a short period of time and a legitimate excuse for bringing people together for a good cause.
Since the day of its inception White House Christmas Ornament Fundraising Program has worked with its company founders and the general public to promote one-of-a-kind collectible ornaments that interpret the history of our American Presidents and National Government. We continue the mission of our founders to deliver the finest quality keepsake Christmas ornaments.
The White House Christmas Ornament Fundraising Program offers educational pieces of art at excellent prices. The key to successful fund raising is to make our program simple for your organization. Our collectible ornaments are found in the finest stores and literally sell themselves.
How much money can you raise with a White House Christmas Ornament Fundraiser?
That depends upon how much money you want your organization wants to raise, how many people will be selling, and how you price the ornaments you sell. We will supply you with the official white house ornaments, and your customers order form at the prices you establish. You can easily sell our ornaments at double your cost.
This combination of quality, convenience and value generates a lot of sales, which of course translates to a much bigger "pie!" As fund raising participants see the sales rack up they become more and more enthusiastic in their efforts, which in turn leads to even more sales! The consumer knows that a sizeable chunk of their purchase is going to a good cause: YOURS!
How does the payment work?
Monies for all orders placed should be collected at the time of the order. All checks for purchases should be payable to the fund-raising entity. Cash may also be acceptable; that is up to the fund-raising entity. At the end of the fundraising campaign the chairperson collect the monies and places the order with us. We require full payment up front.
How does the White House Christmas Ornament Fundraiser work?
Successful fund-raising is not magic; it is simply hard work on the part of people who are thoroughly prepared. People who know little about your organization give little at best. Focus on selling to people who know and like your organization. These people will support you. be ready, willing, and able to "sell" your organization and the programs for which you are raising money.
White House Christmas Ornaments permits you to set the price of each ornament. But, Make sure that you are asking for a specific amount. DO NOT leave it up to the donor to recommend how much to give. People with money to give are accustomed to being asked for it. The worst thing that will happen is that they will say no, and even then, they're likely to be supportive, even apologetic.
Who is elibable to participate in the White House Christmas Ornament Fundraiser Program?
All non profit organizations are permitted to join the White House Christmas Ornament Fundraising Program with the assurance that they comply with the following requirements:
Your organization must conduct your fundraising event in accordance with accepted principles of sound business and financial management, and accounting procedures.
Your organization must use donations only for the donors' intended purposes.
How do I get started? Call 301.493-9273 Today
First, you will need to download our Free White House Christmas Ornament Fundraising Kit. The Fundraising kit includes; one white house christmas ornament, how to sell ornaments manual filled with fundraising ideas for your team, league, school, church, youth group, club or other non-profit organization, and a sample order and submittal form that you can copy.
Click Here to download your FREE Fundraising Kit!
Your fund raisers can print out the White House Christmas Ornament Fundraising Kit and take home a sample christmas ornament and show it to their neighbors, friends, family, and so on. Each fund raiser should keep all payments in their Order Collection Envelope, and record each sale on the Order Form. Always develop campaign timelines for campaign leaders and solicitors, realizing that long-running campaigns diminish enthusiasm.
At the end of the fundraising campaign (we recommend 2 - 3 weeks in duration) the envelopes should be be collected by the chairperson, and the total order tallied on the submittal form and submitted to White House Christmas Ornaments along with payment and any Shipping and Handling charges. The chairperson keeps the individual order forms.
How long does it take to get the White House Christmas Ornaments?
Orders are processed quickly! You don't have to wait 6 weeks like most fundraisers. We typically can have your order shipped to you within 7 to 14 days from receipt and payment of order.
Do you ever change the fundraising kit?
Yes, the fundraising kit is revised and released once a year.
Can we get samples of the Christmas Ornaments to our family and friends?
Yes, click below and order the amount of samples you need. We suggest one for every fundraiser.