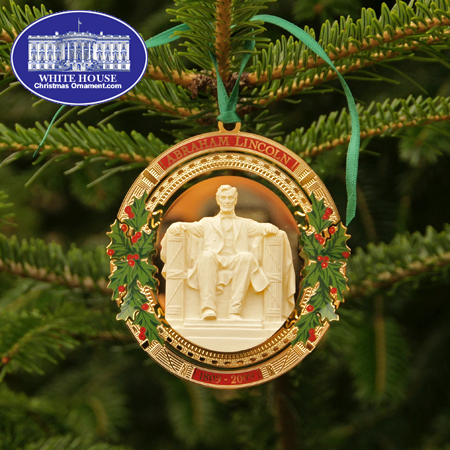 2009 Secret Service Abraham Lincoln Bicentennial Ornament

The White House Ornament Collection presents The 2009 Secret Service Abraham Lincoln Bicentennial Ornament.
This year's Secret Service ornament celebrates the bicentennial birthday of President Abraham Lincoln. Born on February 12, 1809, he became the first Republican president. He successfully led the country through its greatest internal crisis, the American Civil War, preserving the union and ending slavery.
On April 14, 1865, John Wilkes Booth assassinated President Lincoln at the Fords Theater.
This Christmas Gift Idea can serve as either a handsome Christmas display or a Christmas Tree Ornament. Whether you are looking for a holiday ornament, a tree ornament, or Christmas collectable, this gift will make any Christmas a White Christmas. Own a moment of history.
Ornament Price: $26.00
All ornaments are insured and delivered to your home by the United Parcel Service. UPS is committed to doing "absolutely, positively" whatever it takes to deliver the ornaments to you.