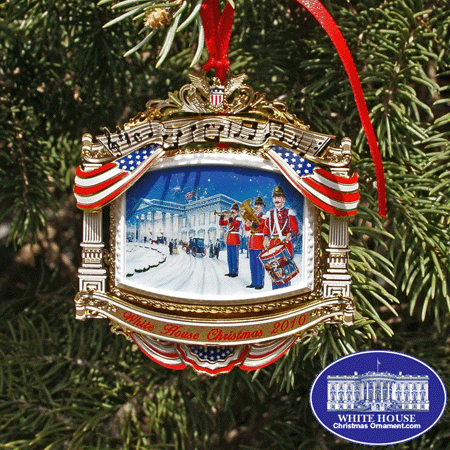 $20.00

PRODUCT ID : 5829WH
The White House Ornament Collection presents the 2010 White House William McKinley Christmas Ornament.

The official 2010 White House Christmas ornament is plated in 24 karat gold and is a dual celebration: a commemoration of the 25th Presidency of the United States, the administration of William McKinley; and the long and storied role of music in the White House. The McKinley administration is remembered as a time when America first became a worldwide superpower, highlighted by several features, most notably the McKinley Tariff and the Spanish-American war. A doting husband and a passionate statesman, President McKinley was assassinated by a deranged anarchist in 1901, six months into his second term, and was the last Civil War veteran to serve as President.

This year's ornament commemorates the annual Army Navy Reception at the White House from the year 1900. The front face of this year's ornament depicts the Marine Corps band playing in the North Drive as guests of the McKinley's arrive on the snow-covered grounds of the White House, while the back of the ornament continues the illustration as the celebration moves inside to the festively decorated East Room. Ornament is plated in 24 karat gold and measures two and one-half inches wide by three inches tall as well as being double-sided.

This Christmas Gift Idea can serve as either a handsome Christmas display or a White House Christmas Tree Ornament. Whether you are looking for a holiday ornament, a tree ornament, or Christmas collectible, this gift will make any Christmas a White Christmas. Own a moment of White House history.

Payment methods accepted









Billing Questions please call 202.285-3238