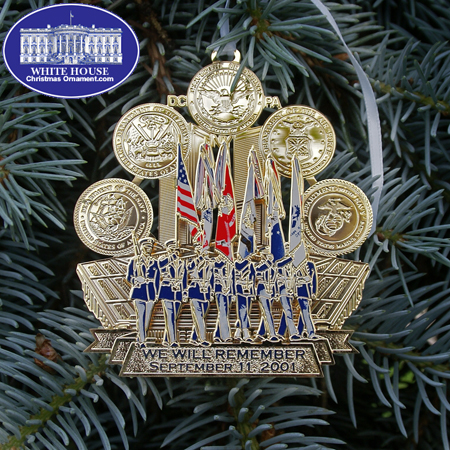 $26.00

PRODUCT ID : 9-11WH
The White House Ornament Collection presents the Remember September 11, 2001 Commemorative Ornament.

9-11-2001 was a fateful day in American history and changed the way the world viewed terrorism forever. We are proud and humbled to present the Remember September 11, 2001 Commemorative Ornament.

The detail is such that you can see the nose of one of the color-guards in the foreground of the ornament. There are many facets and aspects to this beautiful 3-D ornament. Starting with Pentagon building in the background, the Twin Towers rise up and form the supporting structure for five military insignias.

Clockwise from bottom right they are: Department of the Navy, Department of the Army, Department of Defense, Department of the Air Force and Department of the Navy – United States Marine Corps. The Twin Towers are supported by a rendering of the Pentagon with a caption below the color guards which reads: "WE WILL REMEMBER – SEPTEMBER 11, 2001." To fully appreciate the intricacy of this ornament it needs to be seen in person.

This Christmas Gift Idea can serve as either a handsome Christmas display or a White House Christmas Tree Ornament. Whether you are looking for a holiday ornament, a tree ornament, or Christmas collectible, this gift will make any Christmas a White Christmas. Own a moment of White House history.
Payment methods accepted









Billing Questions please call 202.285-3238