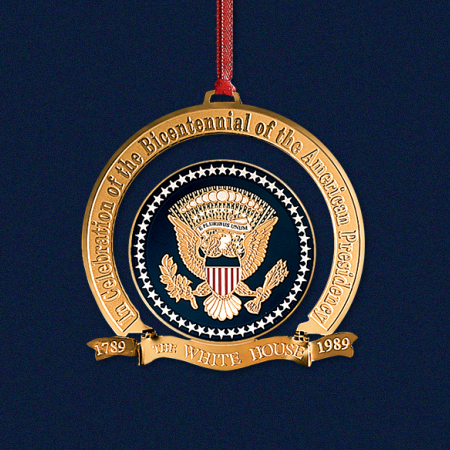 $26.00 SALE PRICE $24.00

PRODUCT ID : 634228125946
The White House Ornament Collection presents the Official 1989 White House Bicentennial of the Presidency Ornament.

The 1989 Bicentennial of the Presidency Ornament is a recreation of the seal used by the White House. The original seal was personalized for the exclusive use of Rutherford B. Hayes, 19th President of the United States of America. Today's Holiday Ornament has been continued by popular request, marking the 200th anniversary of the Presidency.

This Christmas Gift Idea can serve as either a handsome Christmas display or a White House Christmas Tree Ornament. Whether you are looking for a holiday ornament, a tree ornament, or Christmas collectible, this gift will make any Christmas a White Christmas. Own a moment of White House history.

Payment methods accepted









Billing Questions please call 202.285-3238