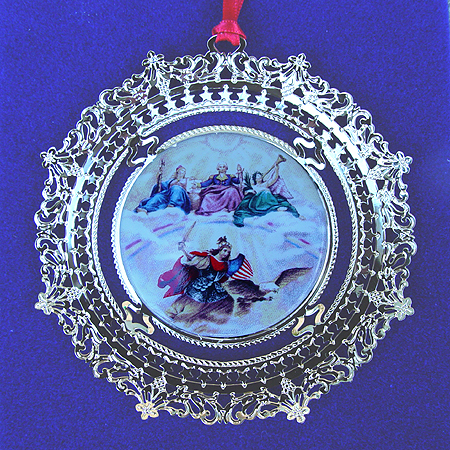 $28.00

PRODUCT ID : 1330000
The White House Ornament Collection presents the Official 1996 Apotheosis of George Washington Ornament.

1996 Apotheosis of George Washington - First edition in the collection of ten ornaments that commemorates Capitol art in the series, "America's Christmas Ornaments." This ornament features the magnificent fresco by Constantino Brumidi that adorns the ceiling of the Rotunda. The ornament has a porcelain center set on a 24kt plated mount. Gift boxed with the history of this artistic masterpiece.

This Christmas Gift Idea can serve as either a handsome Christmas display or a White House Christmas Tree Ornament. Whether you are looking for a holiday ornament, a tree ornament, or Christmas collectible, this gift will make any Christmas a White Christmas. Own a moment of White House history.

Payment methods accepted









Billing Questions please call 202.285-3238