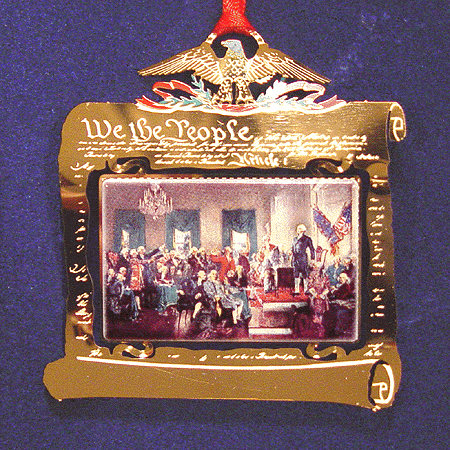 $28.00

PRODUCT ID : 3300000
The White House Ornament Collection presents the Official 1998 Signing of the Constitution Ornament.

1998 Signing of the Constitution Ornament - Third edition in the series, "America's Christmas Ornament." Fine porcelain reproduction of the Howard Chandler Christy painting that hangs in the House wing of the Capitol's east stairwell. 22kt gold plated frame incorporates the elements of the original parchment document with the engraved preamble, "We, the People . . ." Gift boxed with provenance card.

This Christmas Gift Idea can serve as either a handsome Christmas display or a White House Christmas Tree Ornament. Whether you are looking for a holiday ornament, a tree ornament, or Christmas collectible, this gift will make any Christmas a White Christmas. Own a moment of White House history.

Payment methods accepted









Billing Questions please call 202.285-3238