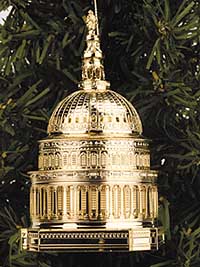 $32.00

PRODUCT ID : 6340000
The White House Ornament Collection presents the Official 2000 U.S. Capitol Holiday Dome Ornament.

The Dome of the United States Capitol may well be the most famous man-made landmark in America. It is a fitting and finale compliment for the building it crowns. The Capitol Dome was designed by the Philadelphia architect Thomas U. Walter, who is also the architect of the House and Senate extensions. The 2000 Capitol Holiday Dome Ornament is a miniature, 24-kt gold recreation of the Capitol Dome.

This Christmas Gift Idea can serve as either a handsome Christmas display or a White House Christmas Tree Ornament. Whether you are looking for a holiday ornament, a tree ornament, or Christmas collectible, this gift will make any Christmas a White Christmas. Own a moment of White House history.

Payment methods accepted









Billing Questions please call 202.285-3238