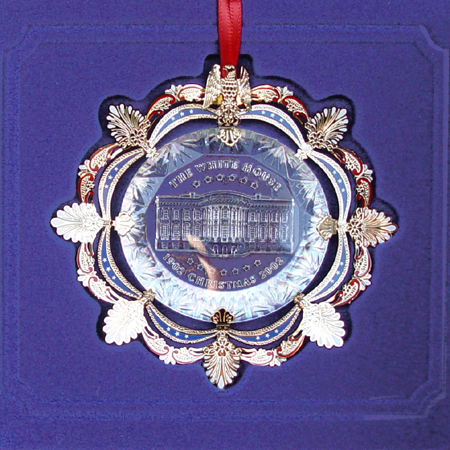 $25.00

PRODUCT ID : 214
The White House Ornament Collection presents the 2002 White House Roosevelt 1902 Ornament.

The Roosevelt 1902 Ornament The crystal-like, acrylic core of the 2002 ornament recalls the sparkling Bohemian glass of the elegant East Room chandeliers. The brass metal decorative frame includes a holiday ribbon, acanthus leaves from the East Room's Louis XVI style wall panels, and a sturdy eagle inspired by the carved mahogany pedestals of the console tables made for the State Dining Room by the firm of A.H. Davenport. The box cover reproduces a portion of the decorative plaster of the 1902 East Room ceiling design.

This Christmas Gift Idea can serve as either a handsome Christmas display or a White House Christmas Tree Ornament. Whether you are looking for a holiday ornament, a tree ornament, or Christmas collectible, this gift will make any Christmas a White Christmas. Own a moment of White House history.

Payment methods accepted









Billing Questions please call 202.285-3238