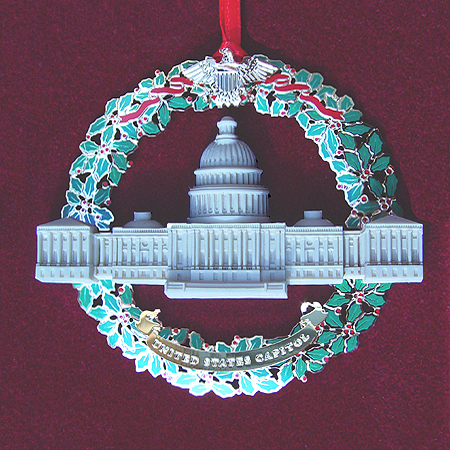 $32.00 SALE PRICE $21.00

PRODUCT ID : 11710000
The White House Ornament Collection presents the 2003 U.S. Capitol Marble & Wreath Capitol Ornament.

The 2003 Marble & Wreath Capitol Ornament is a proud new White House Christmas Collectable, marrying the Holiday Wreath with the Marble Capitol. This partnership of Wreath and Marble combines the Christmas Spirit with the national leadership, honoring the true spirit of the Nation's Capitol. This keepsake is sure to become a favorite.

This Christmas Gift Idea can serve as either a handsome Christmas display or a White House Christmas Tree Ornament. Whether you are looking for a holiday ornament, a tree ornament, or Christmas collectible, this gift will make any Christmas a White Christmas. Own a moment of White House history.


Payment methods accepted









Billing Questions please call 202.285-3238