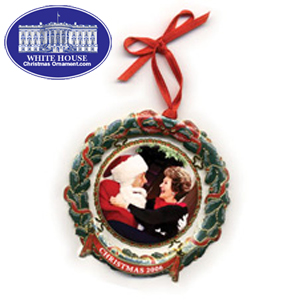 $16.00

PRODUCT ID : XMO009
The White House Ornament Collection presents the First Lady Nancy Reagan Christmas Ornament.

Nancy Davis Reagan (1921- ), married to the Republican icon Ronald Reagan, served as First Lady of the United States from 1981-1989. Born in New York City, Nancy grew up in Bethesda, Maryland after her parents divorced.

As Nancy Davis, she became an actress in Hollywood in the 1940s and 1950s, starring in several films. She married Ronald Reagan in 1952 when he was president of the Screen Actors Guild. Nancy served as First Lady of California from 1967 to 1975 and in that role she became involved with the Foster Grandparents Program.

Perhaps her most notable contribution to during her tenure as First Lady was the "Just Say No" anti-drug initiative, formed in 1982. Its genesis took place when a schoolgirl asked what she should do if offered drugs and Nancy's reply was "Just Say No". This iconic phrase exploded into popular culture in the 1980s, had school anti-drug campaigns named after it and was used as the name for clubs and other anti-drug organizations. Mrs. Reagan currently resides in Bel Air, California and is active in the Reagan Library as well as in politics.

This Christmas Gift Idea can serve as either a handsome Christmas display or a White House Christmas Tree Ornament. Whether you are looking for a holiday ornament, a tree ornament, or Christmas collectable, this gift will make any Christmas a White Christmas. Own a moment of White House history.

Payment methods accepted









Billing Questions please call 202.285-3238