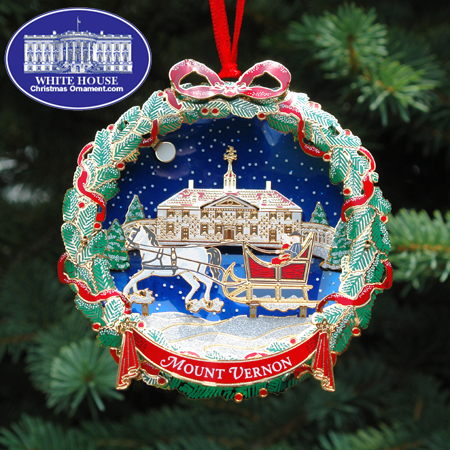 $28.00 SOLD OUT!

PRODUCT ID : 11712
Nothing could be so pleasant as Washington, a moonlit winter sleigh ride alongside his wife, Martha around the young American Republic. Imagine the first of the winter's social gatherings held at the General's Mount Vernon estate. Close friends and relatives would travel by horse and sleigh through the Virginia's gentle slopes blanketed in snow. One could imagine Washington staring at his sleigh and reminiscing about his victory over the British army in Yorktown. Attached is a letter Written by Henry Knox, Washington's loyal officer in West Point, December 17 1782:

My Dear General.

last evening I received your Excellencys favor respecting a sleigh, and inclosing the paroles and on the 22d instant. The sleigh shall be put in train immediately and finished with all possible expedition.

The 2006 Mount Vernon Christmas Ornament is a hand painted depiction of George and Martha Washington taking a sleighride around Mount Vernon estate under a moonlit night. A red ribbon wreath surrounds this memorable scene.

This Christmas Gift Idea can serve as either a handsome Christmas display or a White House Christmas Tree Ornament. Whether you are looking for a holiday ornament, a tree ornament, or Christmas collectable, this gift will make any Christmas a White Christmas. Own a moment of White House history.

Payment methods accepted









Billing Questions please call 202.285-3238