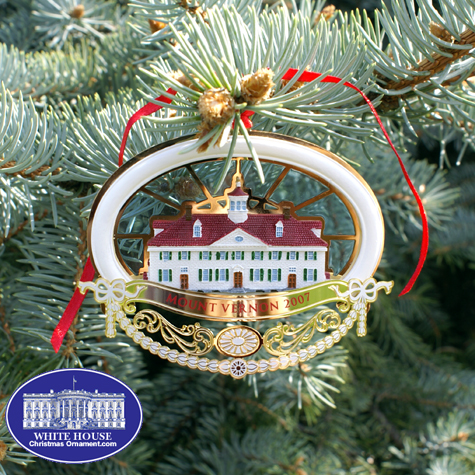 $28.00

PRODUCT ID : 13558
The White House Ornament Collection presents the 2007 Mount Vernon 275th Anniversary Ornament.

Created to celebrate the 275th anniversary of George Washington's birth as well as the enduring iconic style of his home

This 2007 Mount Vernon Holiday Ornament beautifully offsets the Mansion's west front against a backdrop of the stunning oval pediment window. Elegant decorative motifs selected from the large dining room complement the classic design.

"As to the house it is a country residence, the handsomest I have ever seen in America, it is symmetrically built and has two stories, counting the false roofs, wherein some pretty chambers have been constructed. All the rooms are furnished with taste." -Claude Blanchard, 1782

This Christmas Gift Idea can serve as either a handsome Christmas display or a White House Christmas Tree Ornament. Whether you are looking for a holiday ornament, a tree ornament, or Christmas collectable, this gift will make any Christmas a White Christmas. Own a moment of White House history.

Payment methods accepted









Billing Questions please call 202.285-3238