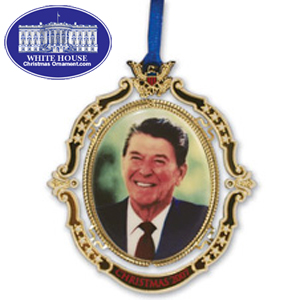 $16.00

PRODUCT ID : XMO007
The White House Ornament Collection presents the President Ronald Reagan Christmas Ornament.

Ronald Wilson Reagan (1911-2004) was the 40th President of the United States and the 33rd Governor of California. Considered an icon of the Republican Party, Reagan began his political affiliations as a liberal Democrat, but officially changed parties in 1962.

Born in Tampico, Illinois and educated at Eureka College, Reagan enacted sweeping changes to the economic and political systems of the United States. His supply side economic ideology, coined "Reaganomics" by the media advocated reducing tax rates and deregulation of the economy among others'.

Credited for ending the Cold War and the fall of Communism in the former Soviet Union survived an assassination attempt and won reelection by a landslide in 1984.

This Christmas Gift Idea can serve as either a handsome Christmas display or a White House Christmas Tree Ornament. Whether you are looking for a holiday ornament, a tree ornament, or Christmas collectable, this gift will make any Christmas a White Christmas. Own a moment of White House history.

Payment methods accepted









Billing Questions please call 202.285-3238