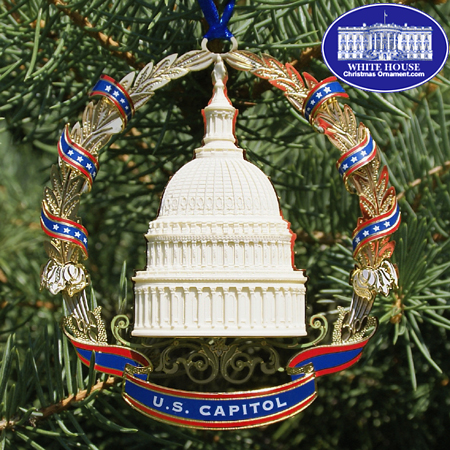 $28.00 OUT OF STOCK

PRODUCT ID : 001867
The White House Ornament Collection presents the 2007 US Capitol Marble Dome & Wreath Ornament.

The massive cast-iron dome is the Capitol's second dome, replacing an earlier copper -covered wooden dome constructed in the 1820s. This second dome, completed during the Civil War at a cost slightly more than one million dollars and composed of 8,909,200 pounds of cast iron, is a marvel of architectural engineering.

The marble used for this ornament was taken from the wing occupied by the House of Representatives. Every member of the House-more than 9,000-has trod the east front steps, originally installed between 1863 and 1865, leaving footprints of history. Having become dangerously worn and uneven, the steps were removed in 1995 and permitted to use a portion of the removed marble, which is crushed to a fine powder and combined with resin, to create this memento.

This Christmas Gift Idea can serve as either a handsome Christmas display or White House Christmas Tree Ornament. Whether you are looking for a holiday ornament, a tree ornament, or Christmas collectable, this gift will make any Christmas a White Christmas. Own a moment of White House history.

Payment methods accepted









Billing Questions please call 202.285-3238