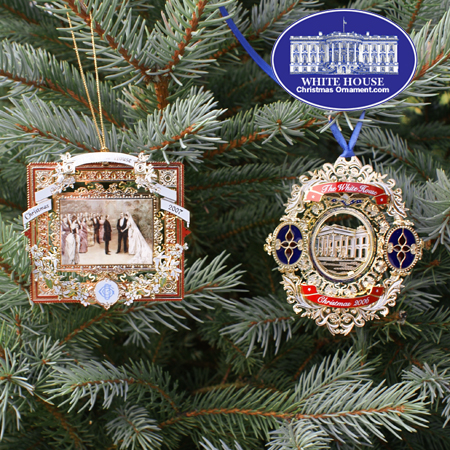 $45.00

PRODUCT ID : 20072006wh
The White House Ornament Collection presents the 2007 White House Ornament Gift Set.

Complete your White House Christmas Ornament collection with this discounted set of official ornaments You can now purchase the 2006 White House Chester A Arthur ornament along with the 2007 White House Grover Cleveland ornament at a discount. Save now when you purchase these ornaments together.

The design of the 2007 ornament is inspired by President Cleveland's wedding within the White House. The color tinted illustration is a reproduction of an engraving that originally appeared in Frank Leslie's Illustrated Magazine depicting the President and his bride during their wedding nuptials. The ornament also showcases themes from the Cleveland wedding album. On the front of the ornament, President Cleveland's monogram anchors a decorative border using orange blossoms from his bride's wedding gown. The back features the Frances Folsom's monogram.

The design of the 2006 ornament is inspired by President Arthur's insistence to redecorate the White House. He brought 24 wagon loads of furniture, some including pieces dating back to John Adams' term, carted away and sold at public auction, and Arthur commissioned Louis Comfort Tiffany to replace them with new pieces. A famous designer now best-known for his stained glass, Tiffany was among the foremost designers of the day.

This Christmas Gift Idea can serve as either a handsome Christmas display or a White House Christmas Tree Ornament. Whether you are looking for a holiday ornament, a tree ornament, or Christmas collectable, this gift will make any Christmas a White Christmas. Own a moment of White House history.

Payment methods accepted









Billing Questions please call 202.285-3238