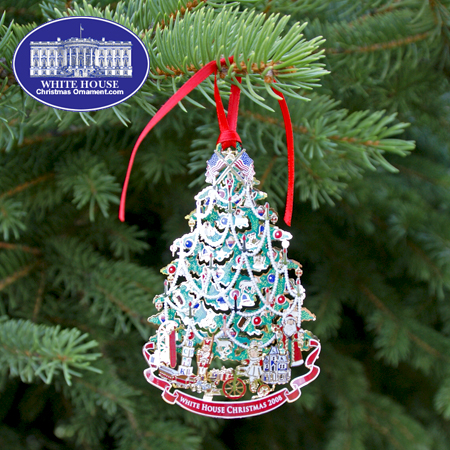 $26.00

PRODUCT ID : 550
The White House Ornament Collection presents the 2008 White House Benjamin Harrison Ornament.

This official White House ornament honors the twenty-third president of the United States, President Benjamin Harrison (1833-1901). Inaugurated 100 years after George Washington, Harrison became a centennial president and served one term. This ornament is a glimpse of the first Christmas tree ever to have been documented in The White House.

The Christmas tree is full of white streams and garland while decorated with many gorgeous toys and treats. At the foot of the Christmas tree there are presents for all of President Harrison's grandchildren; Benjamin, Mary, and Marthena. Benjamin received a grand wooden sled and toy train while Mary found a tricycle and friendly doll. Marthena received her dollhouse while a giant Santa Claus completes the season's holiday cheer.

This Christmas Gift Idea can serve as either a handsome Christmas display or a White House Christmas Tree Ornament. Whether you are looking for a holiday ornament, a tree ornament, or Christmas collectable, this gift will make any Christmas a White Christmas. Own a moment of White House history.

Payment methods accepted









Billing Questions please call 202.285-3238