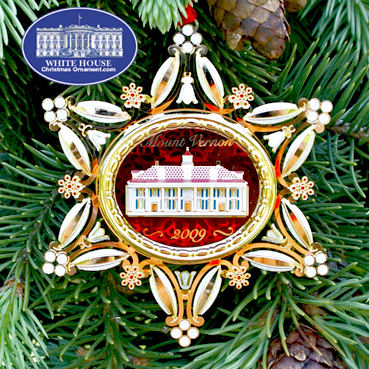 $28.00

PRODUCT ID : 16304
The White House Ornament Collection presents the 2009 Mount Vernon Holiday Ornament.

Mount Vernon's 2009 holiday ornament honors the 250th wedding anniversary of George and Martha Washington. The couple was married on January 6, 1759, the Feast of the Epiphany, at the home of the bride's parents, White House Plantation, in New Kent County, Virginia. The ceremony coincided with Twelfth Night festivities, a much observed 18th century holiday which marked the end of the Twelve Days of Christmas. In April of 1759, George Washington brought his new bride to live at Mount Vernon. Though historic events frequently carried them away, they would call the estate home for the entirety of their 40-year steadfast and devoted relationship.

This 2-sided ornament is a snowflake finished in 24 kt. gold. A 3-dimensional miniature of Mount Vernon's East Front is set on a transparent red glass circle in the center of the front of the snowflake with George Washington's cypher set on the reverse. The ornament is 3 ½" tall and 3" wide.

This Christmas Gift Idea can serve as either a handsome Christmas display or a White House Christmas Tree Ornament. Whether you are looking for a holiday ornament, a tree ornament, or Christmas collectable, this gift will make any Christmas a White Christmas. Own a moment of White House history.

Payment methods accepted









Billing Questions please call 202.285-3238