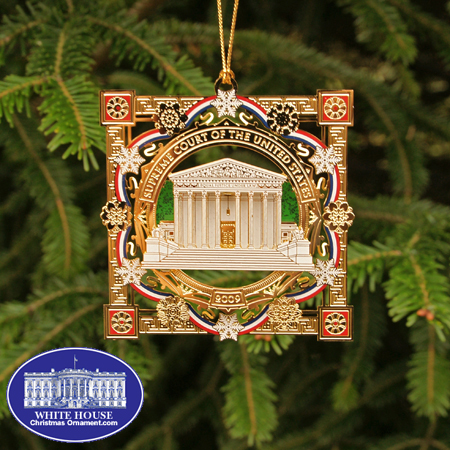 $34.00

PRODUCT ID : 04054
The White House Ornament Collection presents the 2009 Supreme Court Holiday Ornament.

The 2009 ornament is a two-sided, dimensional square. Featured the front is the facade of the Supreme Court building. The Seal of the Supreme Court accents the back of the ornament.

The details on the ornament are derived from alternating patterns of snowflakes and those of the coffered ceiling panels found in the Courtroom. A ribbon of red, white and blue surround the building for a dramatic affect. The ornament is beautifully boxed for gift giving or storage for many years of enjoyment.

This Christmas Gift Idea can serve as either a handsome Christmas display or a Christmas Tree Ornament. Whether you are looking for a holiday ornament, a tree ornament, or Christmas collectable, this gift will make any Christmas a White Christmas. Own a moment of history.

Payment methods accepted









Billing Questions please call 202.285-3238