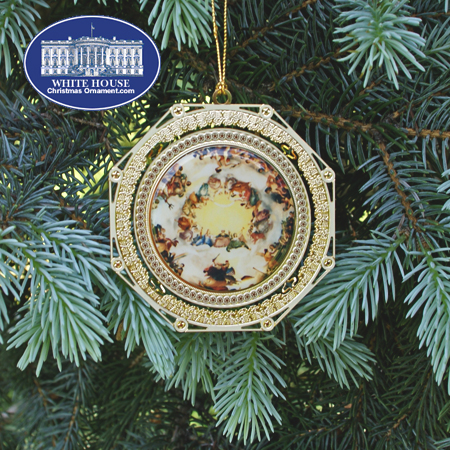 $19.95

PRODUCT ID : 002239
The White House Ornament Collection presents the 2009 US Capitol Apotheosis of George Washington Ornament.

Constantino Brumidi's Apotheosis of George Washington is the artist's major work in the United States Capitol, covering 4664 square feet. Located 180 feet above the floor of the Rotunda, the painting was executed in true fresco, a difficult and exacting technique in which pigments are applied to wet plaster.

The United States Capitol is among the most architecturally impressive and symbolically important buildings in the world. It has housed the meeting chambers of the Senate and the House of Representatives for almost two centuries. Begun in 1793, the Capitol has been built, burnt, rebuilt, extended and restored; today, it stands as a monument not only to its builders, but also to the American people and their government.

This Christmas Gift Idea can serve as either a handsome Christmas display or a White House Christmas Tree Ornament. Whether you are looking for a holiday ornament, a tree ornament, or Christmas collectable, this gift will make any Christmas a White Christmas. Own a moment of White House history.

Payment methods accepted









Billing Questions please call 202.285-3238