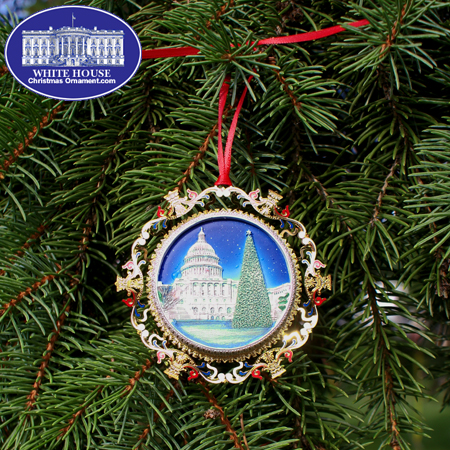 $28.00

PRODUCT ID : 002324
The White House Ornament Collection presents the 2009 US Capitol West Front Marble Ornament.

Elegant in its simplicity (although ornately detailed on the 24k gold-plated border) the 2009 Official United States' Capitol ornament will make a beautiful addition to any tree or mantle piece. "The People's Tree" (the Capitol Christmas tree) has been documented back to 1919 but was not until 1964 that a definite procedure and lighting ceremony was adopted.

This ornament is made with crushed marble which was removed from the original steps for the House of Representatives in 1995 due to the wear created by the over 9,000 representatives who trod the steps dating back to 1863-1865. The original marble was crushed and mixed with resin to create this heirloom ornament. 3-D relief drawing of the Capitol building adorned with her Christmas tree and finished in 24k gold.

This Christmas Gift Idea can serve as either a handsome Christmas display or a Christmas Tree Ornament. Whether you are looking for a holiday ornament, a tree ornament, or Christmas collectable, this gift will make any Christmas a White Christmas. Own a moment of history.

Payment methods accepted









Billing Questions please call 202.285-3238