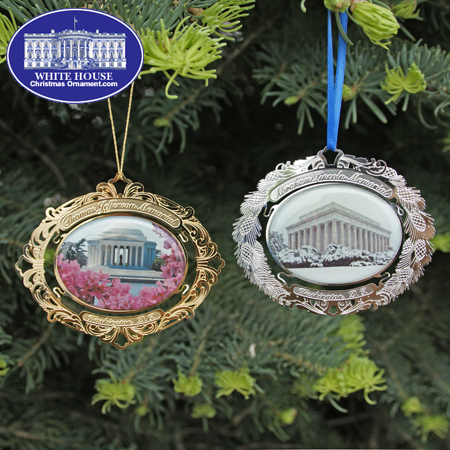 $35.00

PRODUCT ID : 9813023
The White House Ornament Collection presents The 2009 Washington DC Series Ornament Set.

Save over 10% when you purchase these beautiful American-made ornaments featuring two of the most historical structures in our Nation's Capitol. The Lincoln Memorial is a United States Presidential memorial built to honor Abraham Lincoln. Completed in 1922, the memorial is located on the National Mall in Washington, D.C. The architect was Henry Bacon, and the sculptor was Daniel Chester French. The 36 columns required for the design were seen to represent the 25 U.S. states at the time of Lincoln's death plus the 11 seceded States.

The Jefferson Memorial, a circular domed building designed after the Pantheon in Rome, commemorates the contributions of Thomas Jefferson, third president and author of the Declaration of Independence.

This Christmas Gift Idea can serve as either a handsome Christmas display or a White House Christmas Tree Ornament. Whether you are looking for a holiday ornament, a tree ornament, or Christmas collectable, this gift will make any Christmas a White Christmas. Own a moment of White House history.


Payment methods accepted









Billing Questions please call 202.285-3238