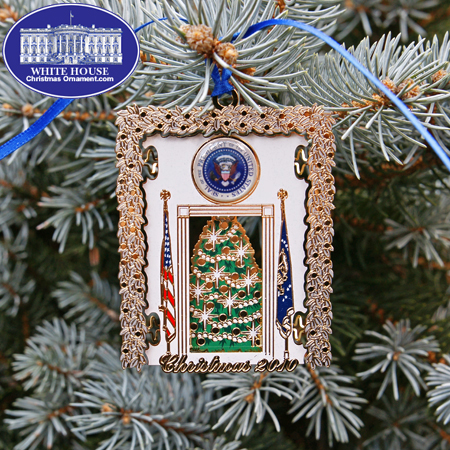 $28.00 SOLD OUT

PRODUCT ID : 2010coWH
The White House Ornament Collection presents the 2010 Secret Service Holiday Ornament.

The 2010 Secret Service ornament captures the view of the Christmas tree that is placed in the Blue Room from the North Cross Hall. On the right side of the Blue Room doors is the President's flag and on the left side is the American Flag. Above the doorway is the Seal of the President of the United States.

The Christmas tree is selected each year by way of a contest. The First Lady is presented with the Official White House Christmas Tree. The 2009 tree came from Shepherdstown, West Virginia. The 18-and-a-half foot Douglas fur arrived on the traditional horse drawn carriage to the North Portico of the White House.

This Christmas Gift Idea can serve as either a handsome Christmas display or a White House Christmas Tree Ornament. Whether you are looking for a holiday ornament, a tree ornament, or Christmas collectible, this gift will make any Christmas a White Christmas. Own a moment of White House history.

Payment methods accepted









Billing Questions please call 202.285-3238