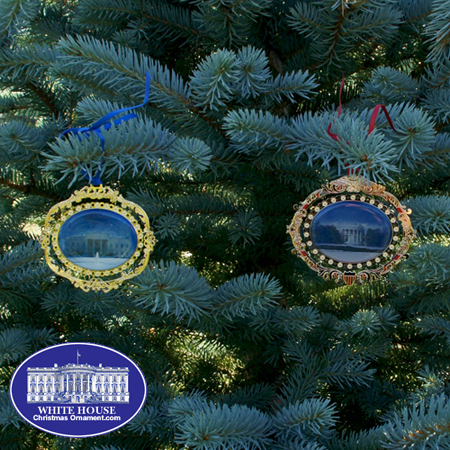 $35.00

PRODUCT ID : 9813064WH
The White House Ornament Collection presents the official 2010 White House North and South Portico Ornament Set.

No White House Collection is complete without the 2010 White House North and South Portico ornaments. Save time and money when you order these two ornaments together in a set.

The North Portico of the White House is often referred to as "the President's entrance" to the White House. The portico was added in 1830 and was built in accordance of the Federal style of architecture in keeping with the original design.

The South Portico was constructed in 1824 when James Monroe was President and overlooks the National Mall. The rounded structure with columns is the South Portico and is often used as an entrance for visiting dignitaries after a ceremony on the South Lawn.

This Christmas Gift Idea can serve as either a handsome Christmas display or a White House Christmas Tree Ornament. Whether you are looking for a holiday ornament, a tree ornament, or Christmas collectable, this gift will make any Christmas a White Christmas. Own a moment of White House history.

Payment methods accepted









Billing Questions please call 202.285-3238