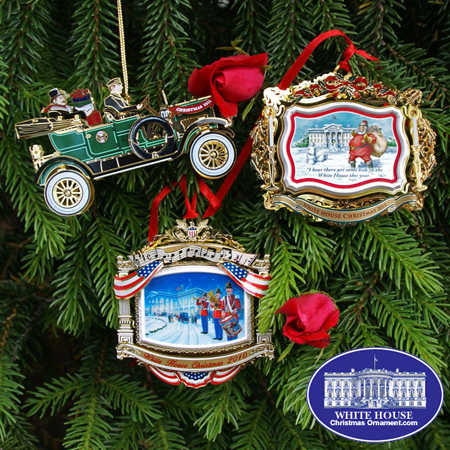 $55.00

PRODUCT ID : 9813138WH
The White House Ornament Collection presents the 2010-2012 White House Ornament Gift Set.

Save money this year by purchasing the 2012, 2011, and 2010 gift set of 3 ornaments. This set of official White House Christmas ornaments is the perfect gift for anyone that is starting their collection.

The 2012 White House ornament is a salute to the presidency of William Howard Taft (1909-1913) bringing motorized transportation to the White House in 1909 via the White Motor Company's Model M steam-powered automobile. Taft had a keen interest in innovation and manufacturing and this ornament is a testimony to his passion.

The 2011 White House ornament commemorates Theodore Roosevelt's presidency (1901-1909) by celebrating children being in the White House (six to be precise) for the first time in four years. Roosevelt, who promised every American a "Square Deal," took over as President on September 14, 1901 (age 42) after the assassination of William McKinley eight days earlier.

The 2010 White House ornament honors President William McKinley, 25th President of the United States, and celebrates the importance of music as a tradition in the White House. The double-sided ornament features a view of the Marine Corps band performing for guests in the North Drive while the back shows the South Portico on one side and the annual Army Navy Reception in the East Room of the White House.

Own a moment of White House history with this collectible White House ornament gift set.

Payment methods accepted









Billing Questions please call 202.285-3238