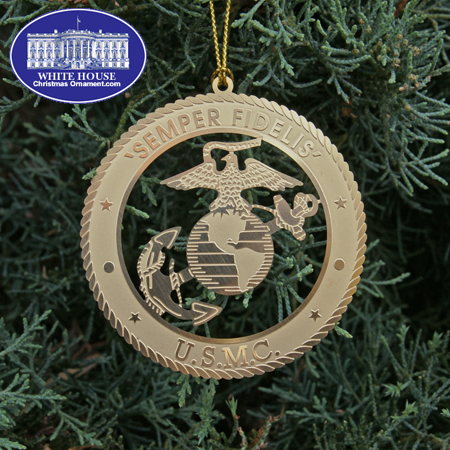 $16.00

PRODUCT ID : 9813091WH
The White House Ornament Collection presents the 2011 Marine Corps Semper Fidelis Commemorative Ornament.

The Eagle, Globe, and Anchor is the official emblem of the United States Marine Corps. The design roots can be traced back to the British Royal Marines and the early Continental Marines, but the modern day design was finalized in 1966. The globe symbolizes the Western Hemisphere which symbolizes The Corp's dedication to serve Americans in any part of the world.

The "fouled anchor" (the anchor is tangled in its rope), which dates back to 1775, is symbolic of the Marines' amphibious duties. The eagle grasps a banner that reads "Semper Fidelis" which is Latin and the Marine's slogan: "Always Faithful."

This Christmas Gift Idea can serve as either a handsome Christmas display or a White House Christmas Tree Ornament. Whether you are looking for a holiday ornament, a tree ornament, or Christmas collectible, this gift will make any Christmas a White Christmas. Own a moment of White House history.

Payment methods accepted









Billing Questions please call 202.285-3238