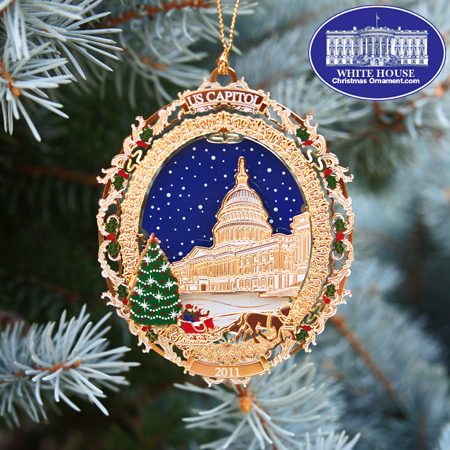 $32.00

PRODUCT ID : 002554WH
The White House Ornament Collection presents the 2011 U.S. Capitol Holiday Tree & Carriage Ornament.

This year's ornament from the United States Capitol Historical Society captures a beautiful holiday-night scene from nostalgic times past. Set in bold relief against a starry night, the U.S. Capitol building is the main focus of the ornament. In the foreground, in the midst of a fresh covering of virgin snow, a couple slides along romantically in an open sleigh drawn by two horses. Between the open sleigh and the Capitol Building is a Christmas tree decorated handsomely, its tinsel glimmering by the light of stars. Encircling this ornate piece of art is finely detailed gold gilding, intertwined with boughs of holly.

The top of the ornament is engraved "US Capitol" and the bottom reads "2011." This is a beautiful heirloom-quality decoration that is sure to delight any recipient or simply as a gift to oneself.

This Christmas Gift Idea can serve as either a handsome Christmas display or a White House Christmas Tree Ornament. Whether you are looking for a holiday ornament, a tree ornament, or Christmas collectible, this gift will make any Christmas a White Christmas. Own a moment of White House history.

Payment methods accepted









Billing Questions please call 202.285-3238