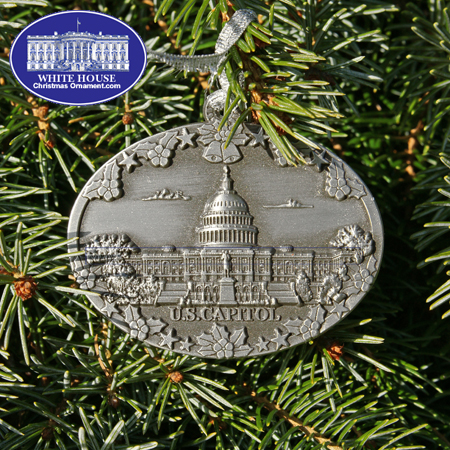 $12.50

PRODUCT ID : 9813097WH
The White House Ornament Collection presents The 2011 U.S. Capitol West Front Pewter Ornament. Another in our new series of fine pewter ornaments is the U.S. Capitol Building ornament. This ornament features an embossed likeness of the East Entrance to the Capitol Building in Washington, DC<

The background of the ornament is hand-brushed to a beautiful burnished finish, giving the illusion of a cloudless sky. Trees adorn the left and right sides of the Capitol Building and holly leaves surround the ornament.

Above the Statue of Freedom (which sits atop the Capitol Building dome) are two jingle bells surrounded by holly leaves. The back of the ornament features the Eagle portion of the Great Seal of the United States with a banner in the eagle's beak which reads: "E. Pluribus Unum."

This Christmas Gift Idea can serve as either a handsome Christmas display or a White House Christmas Tree Ornament. Whether you are looking for a holiday ornament, a tree ornament, or Christmas collectable, this gift will make any Christmas a White Christmas. Own a moment of White House history.

All ornaments are insured and delivered to your home by the United States Postal Service. WhiteHouseChristmasOrnament.com along with USPS are committed to doing "absolutely, positively" whatever it takes to deliver the ornaments to you on time.

Billing Questions please call 301.493-9273

Delivery Time - 5 - 10 Business days.

Our Return Policy - White House Christmas Ornament Co. will pay the return shipping cost if the return is a result of our error. Please note that we are unable to exchange items. All sales are final.


Payment methods accepted









Billing Questions please call 202.285-3238