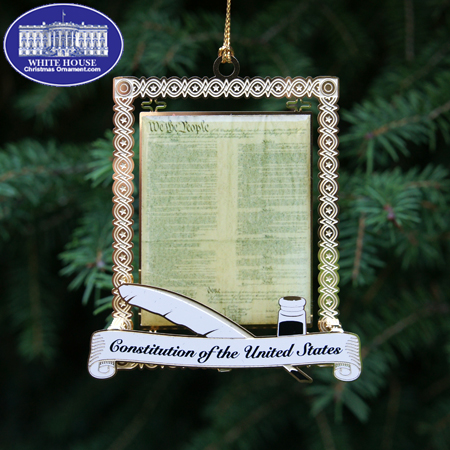 $28.00

PRODUCT ID : 002563WH
The White House Ornament Collection presents the 2011 US Constitution Document Ornament.

The U.S. Constitution is one of the oldest and most famous documents in the history of the United States. It was adopted on September 17, 1787, by the Constitutional Convention in Philadelphia. The first ten amendments, the Bill of Rights, protect the natural rights of liberty for all people. The U.S. Constitution is the oldest constitution that is still used by any country in the world. The handwritten original, handwritten, document is on display at the National Archives in Washington, DC.

The 2011 U.S. Constitution Document Ornament is handsomely decorated by a 24-carat, gold-finished brass frame.

This Christmas Gift Idea can serve as either a handsome Christmas display or a White House Christmas Tree Ornament. Whether you are looking for a holiday ornament, a tree ornament, or Christmas collectible, this gift will make any Christmas a White Christmas. Own a moment of White House history.

Payment methods accepted









Billing Questions please call 202.285-3238