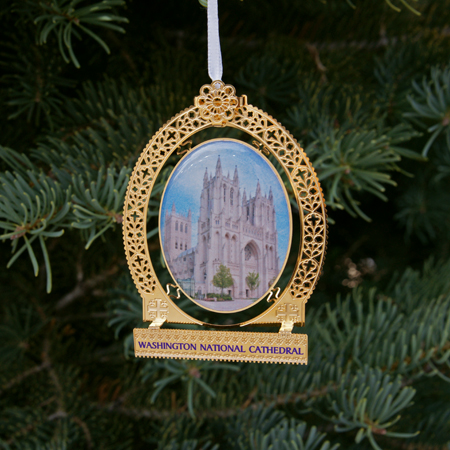 $30.00

PRODUCT ID : 9813094WH
The White House Ornament Collection presents the 2011 Washington National Cathedral Ornament.

Officially known as the Cathedral of St. Peter and St. Paul, the Cathedral's charter was signed by President Benjamin Harrison in 1893. The Cathedrals Foundation Stone was laid by Theodore Roosevelt. The beginning of construction in 1909 would find multiple generations of Gothic Architects, stone carvers, masons, metal workers and stained glass artisans who graced the Washington National Cathedral with their talents and labors. Washington National Cathedral was completed in 1990 (almost a century of construction) with private donations and funds.

Designed and Made in the USA. Part of the proceeds from the sale of these ornaments go to help the restoration of the Washington National Cathedral from the damage it incurred by the earthquake that hit the Washington DC area last September.

This Christmas Gift Idea can serve as either a handsome Christmas display or a White House Christmas Tree Ornament. Whether you are looking for a holiday ornament, a tree ornament, or Christmas collectible, this gift will make any Christmas a White Christmas. Own a moment of White House history.

Payment methods accepted









Billing Questions please call 202.285-3238