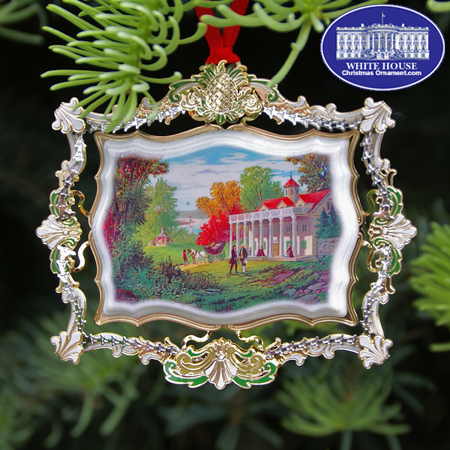 $18.00 Sale $14.00

PRODUCT ID : 19935WH
The White House Ornament Collection presents The 2012 Mount Vernon Holiday Ornament.

George and Martha Washington kept a visitor's journal for friends, family and visitors which, over the years, was filled with remembrances and thoughts of the Washington's legendary hospitality. This year's Mount Vernon ornament pays tribute to their kindness and their willingness to open their home as freely as they did with an image of a painting completed in 1878 by G.F. Gilman showing George Washington conversing with a guest on the front lawn of Mount Vernon.

The image is sealed onto a softly-edged, rectangular, porcelain "canvas." The reverse side of the ornament is inscribed: "The elegant Hospitality exercised at Mount Vernon...renders it a most delightful Residence to your Friends. - Eliza Powell to Martha Washington, 1787."

The Mount Vernon image is 2" x 1-1/2" and the overall ornament is 3" x 2-1/2" and includes a beautiful gift box and a red ribbon for hanging.

This Christmas Gift Idea can serve as either a handsome Christmas display or a White House Christmas Tree Ornament. Whether you are looking for a holiday ornament, a tree ornament, or Christmas collectable, this gift will make any Christmas a White Christmas. Own a moment of White House history.

Payment methods accepted









Billing Questions please call 202.285-3238