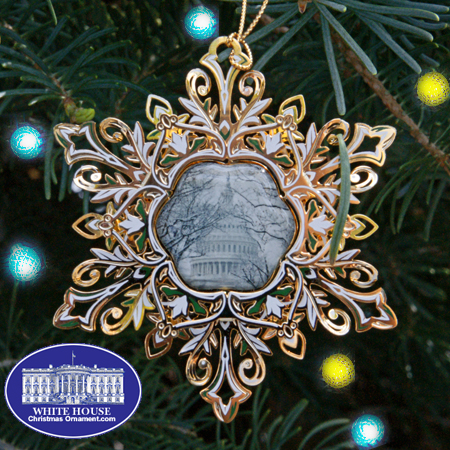 $32.00

PRODUCT ID : 002565WH
The White House Ornament Collection presents the 2012 U.S. Capitol Historical Society 50th Anniversary Ornament.

The 2012 United States Capitol Ornament commemorates the 50th year of their Historical Society. This beautiful collectible is hand-crafted in the United States and is plated in 24k gold.

The front of this ornament features an image of the Capitol Building on a snow-filled winter's day surrounded by an intricately raised snowflake frame. The snowflake has white and green colors throughout its shape which highlights the beauty of the design. The back of the ornament features white and red colors throughout the snowflake design and has the words, "United States Historical Society 50th Anniversary". This ornament is truly a collector's item.

Established in 1962, the United States Capitol Historical Society is an educational group founded through a bipartisan effort by Congress. The non-profit serves as an educational and informational resource that promotes the history of the Capitol and Congress.

This Christmas Gift Idea can serve as either a handsome Christmas display or a White House Christmas Tree Ornament. Whether you are looking for a holiday ornament, a tree ornament, or Christmas collectible, this gift will make any Christmas a White Christmas. Own a moment of White House history.

Payment methods accepted









Billing Questions please call 202.285-3238