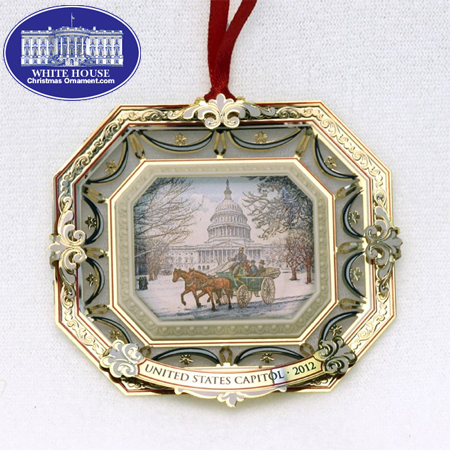 $25.00

PRODUCT ID : 002650WH
The White House Ornament Collection presents the 2012 U.S. Capitol Marble Carriage Ornament.

This beautiful holiday ornament features a horse-drawn carriage in front of the United States Capitol building on a typical winter day.

The marble used to create this ornament was taken from a wing of the east front of the U.S. Capitol and was originally installed between 1863 and 1865. This classic design is truly one of the most beautiful fashioned out of the historic marble steps. The marble is ground to a fine powder and then mixed with resin to mold the exquisite frame to hold a classic turn of the century U.S. Capitol carriage image.

The piece is then surrounded by a 24 kt gold finish. "PROUDLY MADE IN AMERICA!" We are only offering this reduced price to our valued members through the end of the month.

This Christmas Gift Idea can serve as either a handsome Christmas display or a White House Christmas Tree Ornament. Whether you are looking for a holiday ornament, a tree ornament, or Christmas collectible, this gift will make any Christmas a White Christmas. Own a moment of White House history.

Payment methods accepted









Billing Questions please call 202.285-3238