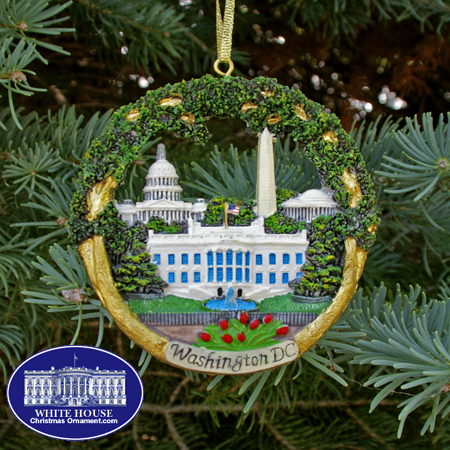 $24.00 SALE PRICE $18.00

PRODUCT ID : 9813180WH
The White House Ornament Collection presents the 2012 Washington DC Sculptured Landmarks Ornament.

A lovely hand-painted piece for any occasion, this ornament features four of Washington, DC's most notable landmarks. The ornament features the South Portico of White House during springtime with the lawn fountain turned on and a few red tulips in front of the fence. To the upper left and beyond the trees is the US Capitol Building.

To the upper right of the White House stands the Washington Monument and to the right of the monument is the Jefferson Memorial. On the bottom of the ornament is inscribed "Washington, DC." The ornament has great detail as can be seen by the individual panes of glass in the White House exterior!

This Christmas Gift Idea can serve as either a handsome Christmas display or a White House Christmas Tree Ornament. Whether you are looking for a holiday ornament, a tree ornament, or Christmas collectible, this gift will make any Christmas a White Christmas. Own a moment of White House history.

Payment methods accepted









Billing Questions please call 202.285-3238