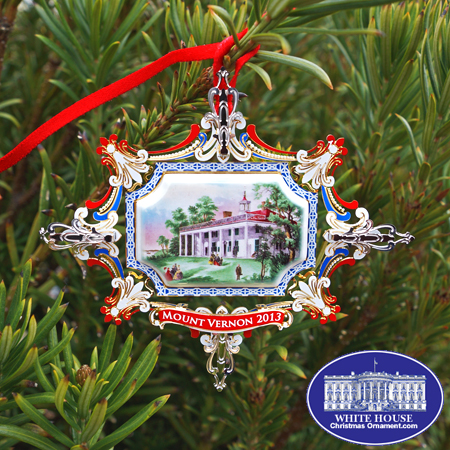 $36.00

PRODUCT ID : 20916
The White House Ornament Collection presents The 2013 Mount Vernon Holiday Ornament.

The centerpiece of the 2013 Mount Vernon ornament was taken from a lithograph titled: "The Home Of Washington, Mount Vernon, Virginia" and shows the East Front of the mansion from around 1858. The lithograph is set off with a stunning 8-pointed star colored red, white and blue and finished in 24 k gold with a small red banner on the bottom of star that reads "MOUNT VERNON 2013." The back of the ornament reads "Mount Vernon - The Home of George and Martha Washington by Currier & Ives Circa 1858."

While no artist is credited with the portrait, it is widely believed to be from the lithograph firm of Nathanial Currier and James Merritt Ives (Currier &@ Ives) who owned and operated a the famous business that specialized in scenes of American life and history thereof. During the 1850's, the estate's owner, John Augustine Washington III (great grandnephew of George Washington) was trying to sell the estate to both the Commonwealth of Virginia and the federal government, both of whom declined the offer.

This Christmas Gift Idea can serve as either a handsome Christmas display or a White House Christmas Tree Ornament. Whether you are looking for a holiday ornament, a tree ornament, or Christmas collectable, this gift will make any Christmas a White Christmas. Own a moment of White House history.

Payment methods accepted









Billing Questions please call 202.285-3238