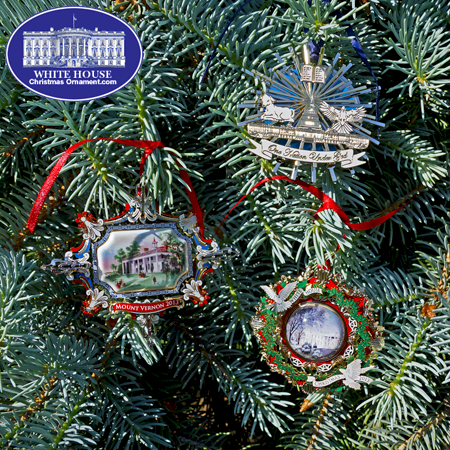 $65.00 OUT OF STOCK!

PRODUCT ID : 9813250
The White House Ornament Collection presents the Official 2013 White House Christmas Ornament Collection (Set of Three).

This beautiful 2013 White House ornament collection features three of the most stunning holiday ornaments produced this year. The collection features The White House Woodrow Wilson Ornament, 2013 Mount Vernon Home of George Washington East Front Ornament, and One Nation Under God Ornament.

Receive huge savings with the 2013 White House ornament collection rather than purchasing these ornaments individually. These ornaments have been hand selected by our staff and will be a welcoming addition to anyone's White House Christmas ornament collection. These keepsake ornaments also make the perfect gift for friends and loved ones or anyone who is starting their collection this year.

This Christmas Gift Idea can serve as either a handsome Christmas display or a White House Christmas Tree Ornament. Whether you are looking for a holiday ornament, a tree ornament, or Christmas collectible, this gift will make any Christmas a White Christmas. Own a moment of White House history.

Payment methods accepted









Billing Questions please call 202.285-3238