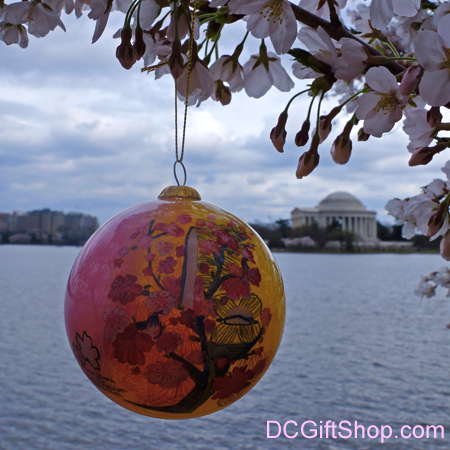 $20.00

PRODUCT ID : CBGS180315M3
Acclaimed Hawaiian illustrator Jing Jing Tsong was selected to create the official design of the National Cherry Blossom Ornament.

"I remember springtime as a rich sensory experience," said Tsong. "In the artwork, I tried to capture the idea of nature 'waking up' from a long winter slumber with song and color, the branches of the tree reaching out to embrace the warmth of the season."

This hand painted keepsake comes in a red padded box for you to cherish.

Order your official National Cherry Blossom Ornament today. Supplies are limited.

Due to high demand during the festival, we are currently sold out. We have reordered more 2015 ornaments are accepting pre-orders only. We expect 2015 Ornaments to arrive around the end of May to early June.

Payment methods accepted









Billing Questions please call 202.285-3238