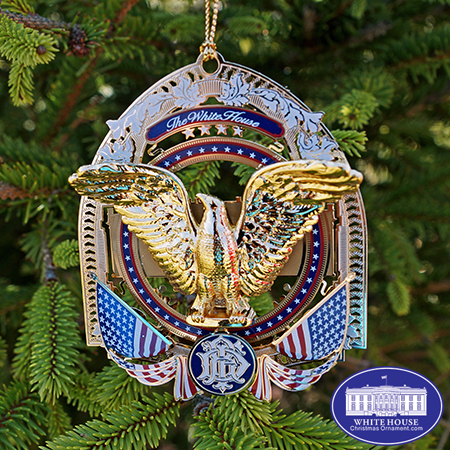 $26.00

PRODUCT ID : 2017FDRO
White House Christmas Ornament Proudly Presents the 2017 President Franklin D Roosevelt Holiday Ornament. The shape of this ornament is designed to be reminiscent of FDR's radio broadcast Fireside Chats.

On the front of this non-tarnishing gold plated ornament features 48 stars encircling a golden American eagle cartouche on the front. surrounded by oak leaf florets with the white enameled words 'The White House' on the top, FDR's personal monogram in between two flags on the bottom.

On the back of this beautiful ornament is the South Portico of the White House surrounded with white leaf florets with white enameled words Christmas 2017 on a blue outer ring. The top inner ring states 1933 - Franklin D. Rooselvelt - 1945. On the bottom is a Christmas Tree above his famous Scottish terrier "Notty" between holly garland and ribbons.

Order this world famous keepsake for your family today. This ornament is proudly made in the USA.

Payment methods accepted









Billing Questions please call 202.285-3238