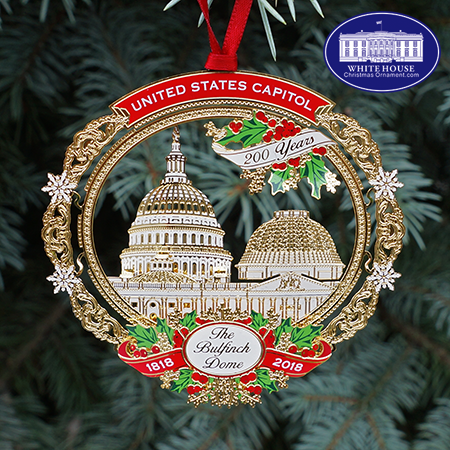 $27.50

PRODUCT ID : 2018USCBDO
White House Christmas Ornament is proud to present a Special 200th Anniversary Edition 24 karat gold ornament featuring a Holiday scene of the U.S. Capitol Dome on the left as it appears today and the low Wooden Dome designed by Charles Bulfinch, the Third Architect of the United States Capitol. On the top a red enameled ribbon in white letters states "United States Capitol." On the right hand corner Holly berries and mixed evergreen surround white enameled ribbon with gold letters states "200 Years." On the bottom a white seal with gold letters state "The Bulfinch Dome" surrounded by mixed evergreen and a red enameled ribbon with white letters stating "1818" and "2018" celebrating the date Charles Bulfinch was hired by the commissioner of public buildings to replace Benjamin Henry Latrobe.

Dimensions 3 inches high x 3.25 inches wide.
Gift Boxed and made in the United States.

Payment methods accepted









Billing Questions please call 202.285-3238