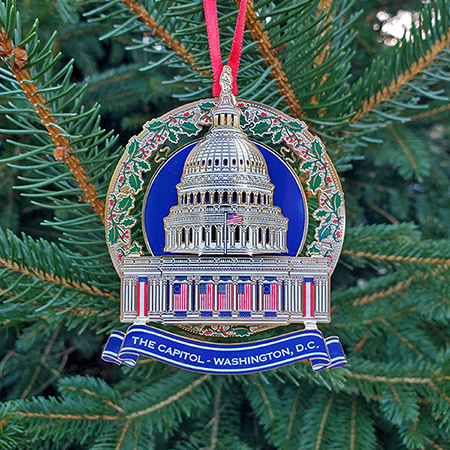 $30.00 SALE PRICE $25.95

PRODUCT ID : 2020CHO
The Official Ornament of the United States Senate is inspired by the 1989 bicentennial swearing in ceremony of George Washington in 1989.

The decorative red, white, and blue bunting on the Capitol buildings Corinthian columns is reminiscent of the scene at Federal Hall in New York. The two most outer flags show the United States flag of 1789, with 13 stars arranged in a circle, a design popularly attributed to Betsy Ross, the iconic upholsterer and flag maker. In the center hangs the current 50-star American flag flanked by two 38-star flags from 1889.

Following the bicentennial inaugural, beginning in 1993, the two flanked flags number of stars represent the time of home state of incoming President entered the Union. The USA made 24 Karat finish ornament represents a moment of American history. Supplies are limited to the general public.

Payment methods accepted









Billing Questions please call 202.285-3238