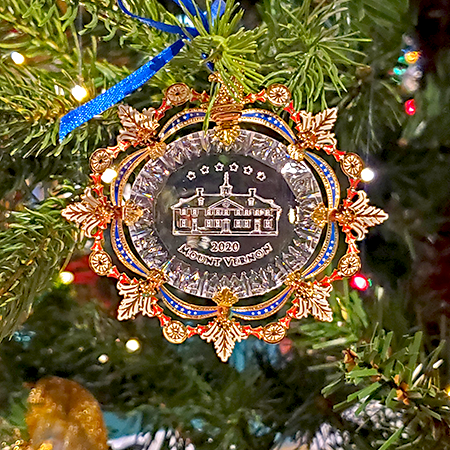 $28.00

PRODUCT ID : 20MVHO
The Mount Vernon 2020 annual ornament pays tribute to George Washington the architect. The griffin at the top of the frame embodies the intelligence and strength of the lion and the eagle found atop the Washington family crest.

The central design is inspired by details found in the décor of what George Washington called the last and grandest addition to the Mansion his "New Room." With its two-story-high ceiling, detailed architectural ornamentation, and stylish furnishings, the New Room intended to convey unpretentious beauty and fine craftsmanship, qualities Washington believed communicated the new nation's values.

The "crystal" is a custom-cast acrylic centerpiece designed to reflect the appearance of cut crystal with the mansion relief sculpted into the back.

The ornament measures 3" by 3", has a blue ribbon for hanging and is presented in a decorative gift box.

Payment methods accepted









Billing Questions please call 202.285-3238