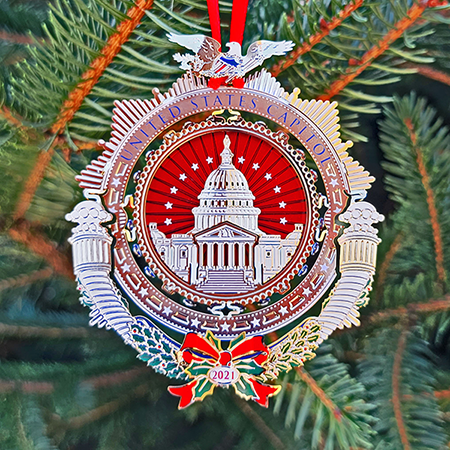 $33.00

PRODUCT ID : 21CHO
The Official Congressional 24 karat gold finish Holiday Ornament was inspired by a word for word copy engraving of the original 1776 Declaration of Independence was created by John Binns and printed by James Porter in 1819 given to the United States Senate. This rare document is stored at the National Archives in its Legislative Treasures Vault. It includes a facsimile of all the original signatures surrounded by an ornate oval border with complex drapery and foliate elements.

This year's Christmas Ornament features United States Capitol Building located in Washington DC is surrounded by enameled red beams of light and white stars. On the top is the American bald eagle holding up the American Shield. The words "UNITED STATES CAPITOL" are engraved in black lettering. On the bottom a white emblem with 2021 engraved signifies the year this ornament was crafted in a limited production. The emblem is surrounded by a lovely red ribbon bow and sprigs holly.

Own this moment of history. Order your ornament today

Proudly made in the USA.

Payment methods accepted









Billing Questions please call 202.285-3238