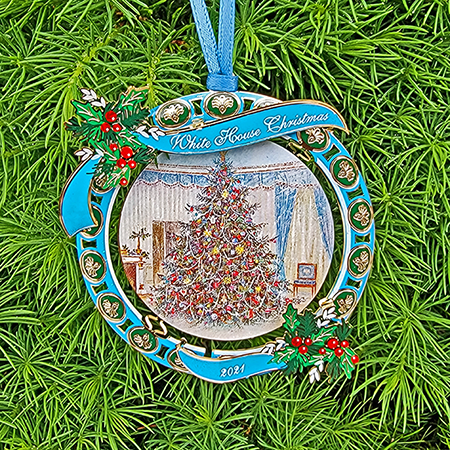 $33.00 Limited First Run

PRODUCT ID : 2021LBJCHO
This year's White House Christmas ornament commemorates the legacy of the 36th President Lyndon Baines Johnson. He has been described as an environmentalist, a brilliant politician, a social reformist, and a hero of civil rights.

On November 22,1963 Kennedy was assassinated while waving and smiling to fans in his presidential motorcade in Dallas, Texas. LBJ was two cars behind Kennedy and witnessed the tragedy first hand. LBJ was swiftly secured aboard Air Force One. In flight, LBJ was sworn in as our 36th president.

The Johnson's also furthered former Jackie Kennedy's vision of turning the White House into a living museum. They then established a White House curator and committee dedicated to the preservation of the White House.

Holiday Season was always a special time for the First couple. When children entered the Blue Room of the White House estate they would see a giant Christmas tree decorated with ornaments all the way to the top of the ceiling. This year's ornament features a 1967 Holiday painting of the Blue Room Christmas tree designed by Robert H. Laessig.


Payment methods accepted









Billing Questions please call 202.285-3238