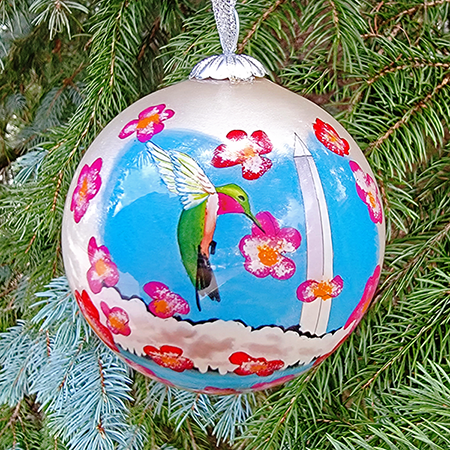 $26.00

PRODUCT ID : 2021NCBFO
Put the hope for Spring on your Holiday tree. This year's National Cherry Blossom Festival Ornament features a hand painted glass ball depicting a jeweled humming bird moving around Cherry blossom flowers. The words NATIONAL CHERRY BLOSSOM FESTIVAL and the date are painted on the back. The George Washington Monument is in the background. Since the first cherry blossom planting in 1912 by First Lady Helen Herron Taft, Washingtonians have celebrated the scenic beauty and the coming of spring the cherry trees represent. This year's National Cherry Blossom Ornament represents the spirit and traditions of cultural exchange, international friendship, and taking time to enjoy the blooming of the cherry trees. The ornament comes in a beautiful red silk gift box.


A portion of your proceeds goes to promoting the beauty of Washington DC Cherry Blossom Trees year-round programs, events, and educational initiatives that enhance our Nation's Capital environment, showcase arts and culture, and build community spirit. During the festival the Tidal Basin Welcome Area provides educational resources and hands-on activities that share interesting facts about our world famous Cherry Blossom trees.



Payment methods accepted









Billing Questions please call 202.285-3238