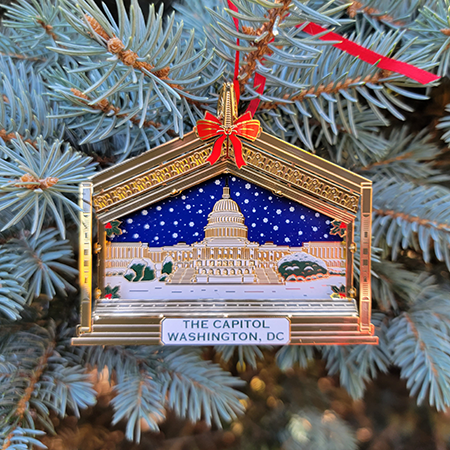 $29.50

PRODUCT ID : 2022OCHO
The 2022 official Congressional holiday ornament commemorates the 200th anniversary of the birth of Frederick Law Olmsted, the first official landscape architect of the U.S. Capitol, from 1874 to 1884. He continued in an advisory capacity until at least 1889. Considered the founder of American landscape architecture, Olmsted viewed landscaping as an antidote to urbanization and industrial sprawl. His many accomplishments include New York City's Central Park, Brooklyn's Prospect Park, the campus of what is now Gallaudet University in Washington. DC. and the suburb of Riverside, Illinois.

The 2022 Congressional holiday ornament takes its inspiration from a striking feature of Olmsted's hardscape: the four monumental lanterns on the west perimeter wall. A pair of these ornamental lanterns sits at the base of each of the main pedestrian approaches to the west front of the Capitol. The large
bronze-and-glass lanterns are mounted on stately sandstone piers with intricately carved sandstone caps.


Payment methods accepted









Billing Questions please call 202.285-3238