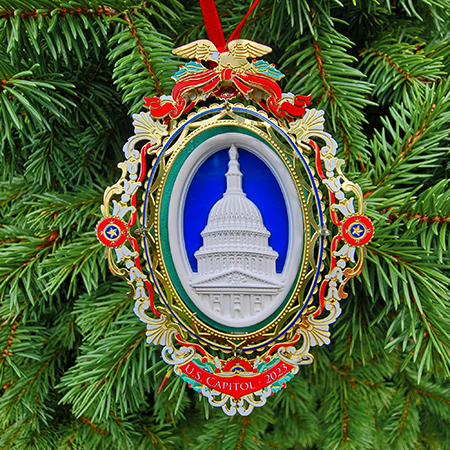 $30.00

PRODUCT ID : 2023MUCDO
This masterpiece is meticulously crafted to intertwine the threads of American history and legacy. Each cameo is made with reclaimed marble that once graced the Capitol Building's steps, now transformed into an emblem of profound significance for your holiday decor.

Against a backdrop of serene blue enamel sky, the marble-etched representation of the Capitol's iconic dome commands attention. Encircled by an exquisite 18 karat gold finished metal frame that is adorned with intricate filigree and two five-pointed star shields on each side, this ornament is a symphony of craftsmanship and the enduring pride of our nation. A majestic bald eagle takes its perch, embodying freedom, strength, and the unwavering spirit of America. On the bottom the enameled the words "US CAPITOL - 2023" underscore the historical significance of this ornament.


Payment methods accepted









Billing Questions please call 202.285-3238