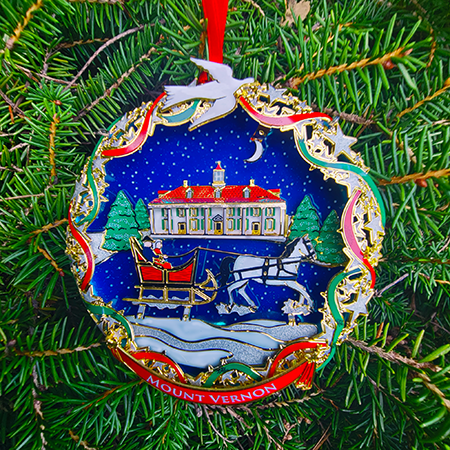 $28.95

PRODUCT ID : 2023MVHO
Step into history as we capture a serene winter moment at Mount Vernon, where George and Martha Washington return home in a charming horse-drawn carriage. The Homecoming ornament encapsulates the essence of George Washingon's character – a statesman, a leader, and above all, a man driven by principles and a deep devotion to his country.

In the waning days of November 1783, as George Washington received the long-awaited news of a peace treaty with England, a mere month remained for him to orchestrate a remarkable series of events. This timeline demanded his acceptance of the transfer of power from British troops in New York, his poignant farewell to the soldiers he led, and his resignation of his military commission to Congress – all with the aspiration of reaching Mount Vernon in time for Christmas. In that crucial juncture, he faced the extraordinary opportunity to retain leadership over the army and potentially ascend as a revered figure akin to an American monarch. The destiny of the nascent government was within his grasp, yet he made the momentous decision to relinquish it. The pinnacle of this journey was his arrival at Mount Vernon on Christmas Eve. The culmination of his efforts could not have yielded a more joyful or meaningful homecoming.

This years 18 karat gold finish ornament depicts a winter scene at Mount Vernon with George and Martha Washington seated in a horse-drawn sleigh carriage, an embodiment of classic elegance. Their journey takes them beneath a moonlit sky, adorned with shimmering stars that sprinkle the beveled midnight blue enamel. As their sleigh ascends a hill, the majestic Mount Vernon emerges into view, a stately presence gracing the wintry landscape. adorned with snow-covered trees. The attention to detail in this depiction is remarkable – every element hand crafted with care to capture the essence of the moment.

Delicate ribbons and intricate filigree motifs gracefully encircle the scene, adding an ornate frame that enhances the ornament's aesthetic appeal. Atop this intricate design rests a dove, symbolizing peace and serenity – a fitting touch given the historical context of George Washington's desire for peace in his retirement years. Completing the picture is a vibrant red ribbon prominently featuring the words "MOUNT VERNON." This ribbon not only reinforces the theme of the ornament but also allows it to be easily displayed and admired from various angles.

The reverse side bears an inscription: "The Homecoming 2023, 'Peace, with all the world is my sincerest wish' - G Washington, Aug 15, 1798." This engraving not only adds depth to the ornament but also emphasizes the enduring desire for peace and harmony.

In this intricate and evocative portrayal, the ornament transcends mere decoration, becoming a captivating storytelling piece that pays homage to history, tradition, and the enduring spirit of the season.

Measuring about 3" in diameter, the ornament is the perfect size for adorning various spaces. It comes with a classic red ribbon for effortless hanging and arrives in a vibrant gift box.

Payment methods accepted









Billing Questions please call 202.285-3238