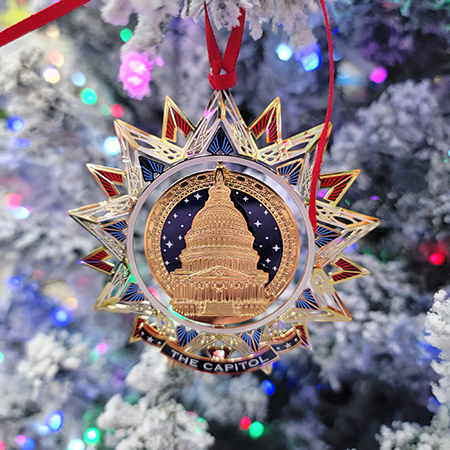 $27.00

PRODUCT ID : 2023ONCBFO
Imagine a frost-kissed winter's night, where the illustrious Capitol Dome stands tall, bathed in a mesmerizing starry sky—a scene brought to life by the 2023 official United States Senate holiday ornament. Crafted right here in the heart of the USA, this exceptional keepsake is a tribute to American artistry and tradition.

Delicately fashioned from multiple layers of intricately cut brass, it gleams with a resplendent 24-karat-gold finish, adding an enchanting touch of elegance. The ornament's palette dances with the patriotic hues of red, white, and blue, evoking the very essence of the nation it represents.

What truly sets this masterpiece apart is its captivating centerpiece—a circular marvel that spins gracefully within the frame of radiant rays. As it twirls, it conjures memories of wintry nights under the dazzling stars, capturing the imagination of all who behold it.

This exquisite ornament is more than just a holiday decoration; it's a symbol of the United States Senate's enduring role in shaping the nation's history. It serves as a cherished reminder of our democratic legacy and a testament to the artistry that thrives within our borders.

The 2023 official United States Senate holiday ornament is not merely an ornament; it's an enchanting story, waiting to be shared. It's the perfect gift for those who cherish American history, appreciate masterful craftsmanship, and hold dear the values of our great nation.

Payment methods accepted









Billing Questions please call 202.285-3238