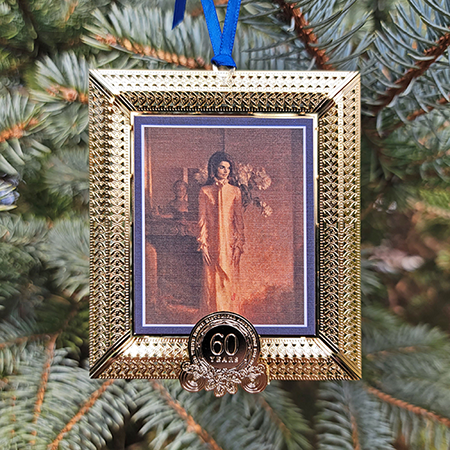 $36.00

PRODUCT ID : 60JKO21
This year's anniversary ornament is very special for the White House Historical Association, founded in 1961 through efforts of First Lady Jacqueline Kennedy. The Association is a private, non-profit organization that works to preserve the history of the White House and make that history more accessible to the public. Many Americans considered Jacqueline Kennedy (later in life also known as Jackie-O) a breath of fresh air. They abolished several old social conventions to create a more casual, comfortable atmosphere.

First Lady Jacqueline Kennedy set out to bring back the furnishing and the art of America's illustrious past. Believing that the White House estate belongs to the American People. The First Lady enlisted Life magazine to help promote the renovation of the White House. She helped prepare a fully illustrated article outlining her plans that ran in the September 1961 issue, and participated in an interview with Hugh Sidey, in which she stated, "All these people come to see the White House. And once inside it they see practically nothing that dates back before 1948."

"The White House does and must continue to represent the living, evolving character of the Executive Branch of the National government. Its occupants have been persons of widely different backgrounds, and accordingly of different tastes. It would be therefore be highly inadvisable, even if it were possible, to fix on a single style of decorations and furnishings for a building that ought to reflect the whole history of a presidency."

The 2021 anniversary ornament features the official portrait of First Lady Jacqueline Kennedy painted by Aaron Shikler in 1970, which now hangs in the Vermeil Room located on the ground floor of the White House. The room houses a collection of silver-gilt or vermeil tableware, a 1956 bequest to the White House by Margaret Thompson Biddle.

This ornament is proudly made in the United States by a military veteran manufacturer.




Payment methods accepted









Billing Questions please call 202.285-3238